"Let thy food be thy medicine and let thy medicine be thy food."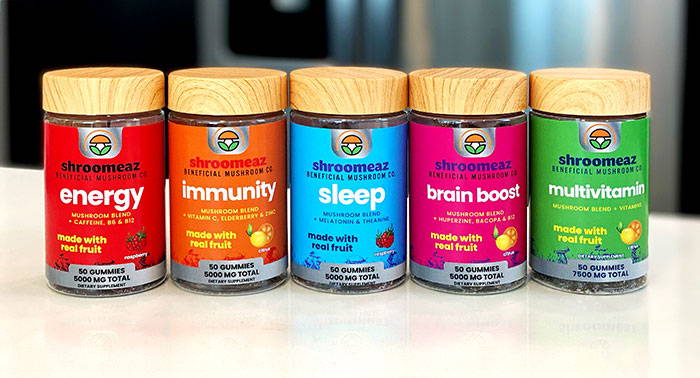 Imagine biting into a strawberry, or a chunk of pineapple. Delicious, right? Now imagine that strawberry was also jam-packed with beneficial mushrooms and other nutrients to help keep your body performing at its best. That's Shroomeaz.
At Shroomeaz, we use a "shamanistic" approach. We have perfected a brand new type of gummy, bursting with fruit flavor and packed with beneficial mushrooms, vitamins and healthy supplements.
Inside of our craft gummies, we utilize freshly harvested mushrooms, vegan ingredients, whole fruit puree and plant-based medicinal extracts. We apply great care in formulating, crafting and testing our products. Our gummies are 100% natural and low in sugar to allow efficient metabolizing and absorption of the ingredients.
We do not use artificial flavors or food coloring of any sort, allowing the beneficial mushrooms and farm-fresh natural fruit to shine through, making our gummies the tastiest on the market.
We invite you to try Shroomeaz for yourself. We are confident you will be wowed by the taste and amazed at the beneficial properties of our gummies.
Shroomeaz
6424 E. Greenway Pkwy.
#100-670
Scottsdale, AZ 85254
800.530.0968